Indulge in the ultimate comfort food with our delectable Fried Mac and Cheese Balls recipe. These crispy, golden-brown bites are filled with creamy macaroni and cheese, creating a mouthwatering combination of flavors and textures. Whether you're hosting a party or looking for a fun snack, these irresistible treats will surely impress your guests. Get ready to satisfy your cravings and dive into this cheesy delight!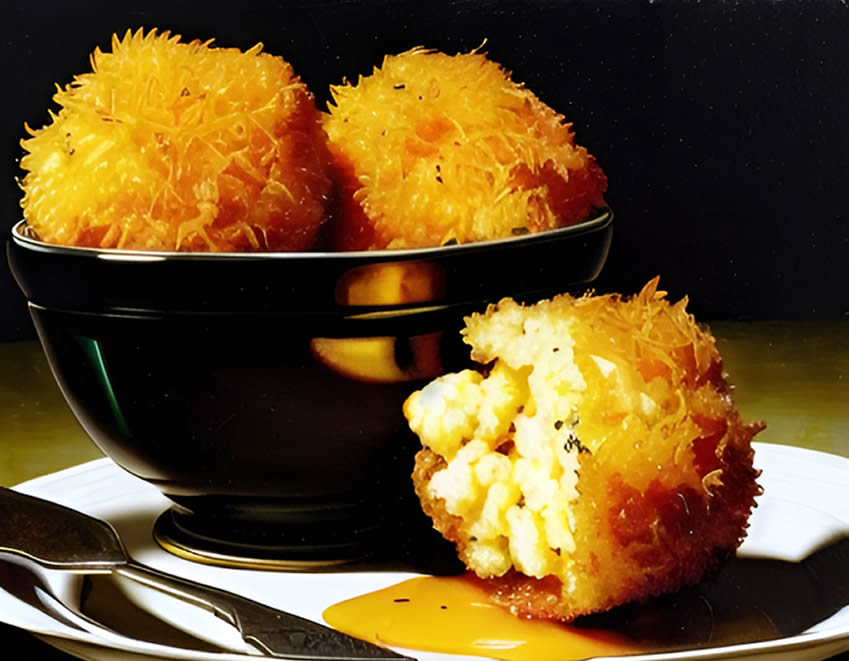 Ingredients:
Macaroni: 2 cups
Cheese (Cheddar or a blend of your choice): 2 cups, shredded
Milk: 1 cup
Butter: 2 tablespoons
Flour: 2 tablespoons
Bread Crumbs: 1 cup
Egg: 2, beaten
Oil: For frying
Salt and pepper: To taste



Instructions:
Cook the macaroni according to the package instructions until al dente. Drain and set aside.


In a separate saucepan, melt the butter over medium heat. Add flour and whisk until smooth.


Gradually pour in the milk while whisking continuously to avoid lumps. Cook until the mixture thickens.


Remove the saucepan from heat and add the shredded cheese. Stir until the cheese has melted and the sauce is smooth.


Add the cooked macaroni to the cheese sauce, and season with salt and pepper. Mix well to combine.


Transfer the mac and cheese mixture to a shallow dish and refrigerate for at least 2 hours to firm up.


Once chilled, take small portions of the mac and cheese mixture and shape them into balls using your hands.


Dip each ball into the beaten eggs, then roll it in the breadcrumbs until fully coated.


Heat oil in a deep fryer or a deep skillet to 350°F (175°C). Carefully drop the mac and cheese balls into the hot oil and fry until golden brown and crispy.


Remove the fried balls from the oil and place them on a paper towel-lined plate to drain excess oil.


Serve the Fried Mac and Cheese Balls hot and enjoy the gooey, cheesy center surrounded by a crispy exterior.
With this Fried Mac and Cheese Balls recipe, you'll create a crowd-pleasing appetizer that combines the comfort of macaroni and cheese with a delightful crunch. Whether it's game night, a potluck, or simply a savory snack, these cheesy bites will have everyone coming back for more. So, grab your apron and get ready to savor the irresistible combination of creamy mac and cheese encased in a crispy shell. Try this recipe today and elevate your snacking game to a whole new level of cheesy goodness!