When it comes to operating a food truck, having a reliable and efficient hood system is crucial. One of the top choices in the market is the HOODMART 6′ Food Truck Hood System, known for its exceptional performance and quality. This hood system is specifically designed for mobile kitchens, ensuring optimal ventilation and air filtration to maintain a clean and safe cooking environment. In this blog post, we will explore the features, benefits, and why this Hood System is considered one of your best options.
Superior Ventilation: The HOODMART 6′ Ventilation System is equipped with powerful exhaust fans that effectively remove smoke, steam, and odors from the cooking area. This ensures a comfortable and safe working environment for the food truck staff.

Customizable Design: This hood system is available in various sizes and configurations to suit different food truck setups. Whether you have a compact food truck or a larger mobile kitchen, this Hood System can be customized to fit your specific requirements.

High-Quality Construction: Built with durable materials and expert craftsmanship, this hood system is designed to withstand the rigors of a mobile kitchen environment. It is made of stainless steel, which is resistant to corrosion and easy to clean, ensuring longevity and hygiene.

Compliance with Regulations: The HOODMART 6′ Ventilation System is designed to meet the strict regulations and codes set by local health departments and fire safety authorities. This ensures that your mobile food operation is in compliance with all necessary guidelines.

Efficient Air Filtration: In addition to its ventilation capabilities, this hood system comes with efficient grease filters that trap grease and prevent it from entering the ventilation system. This helps to maintain cleaner air and reduces the risk of fire hazards.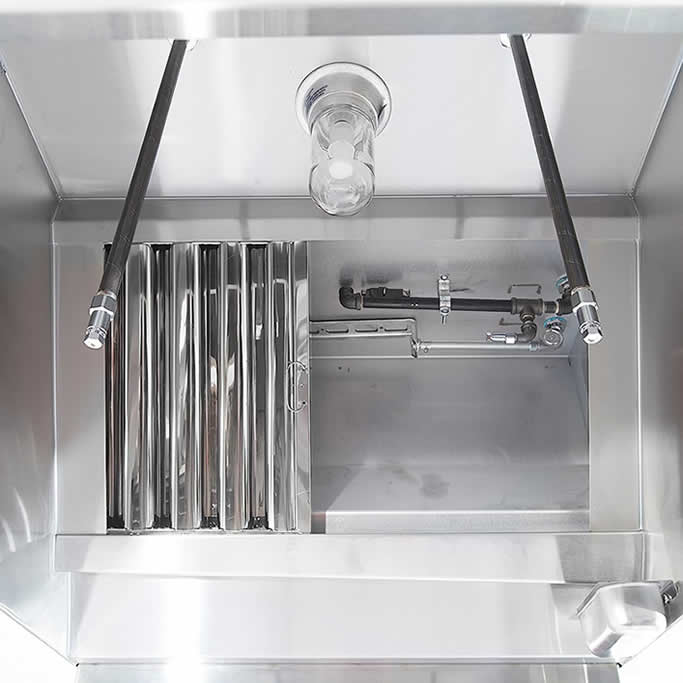 Overall, the HOODMART 6′ Ventilation System is a reliable and high-performance option for food truck owners in need of a top-notch hood system. With its superior ventilation, customizable design, and compliance with regulations, it offers the best in terms of functionality, safety, and efficiency. Invest in the HOODMART 6′  Hood System and enhance the success of your food truck business.