Grilled fish tacos are a popular and delicious option for those seeking a healthy yet flavorful meal. Packed with lean protein, fresh vegetables, and a burst of zesty flavors, these tacos are a perfect choice for a light and nutritious dish. In this blog post, we will share a mouthwatering recipe for the best-grilled fish tacos that will satisfy your taste buds and keep you feeling nourished.

Ingredients:
1 pound white fish fillets (such as cod, tilapia, or mahi-mahi)
2 tablespoons olive oil
2 cloves garlic, minced
1 teaspoon chili powder
1 teaspoon cumin
1/2 teaspoon paprika
1/2 teaspoon salt
Juice of 1 lime
8 small corn tortillas
1 cup shredded cabbage or lettuce
1/2 cup diced tomatoes
1/4 cup chopped red onion
Fresh cilantro, chopped
Greek yogurt or sour cream, for topping
Lime wedges, for serving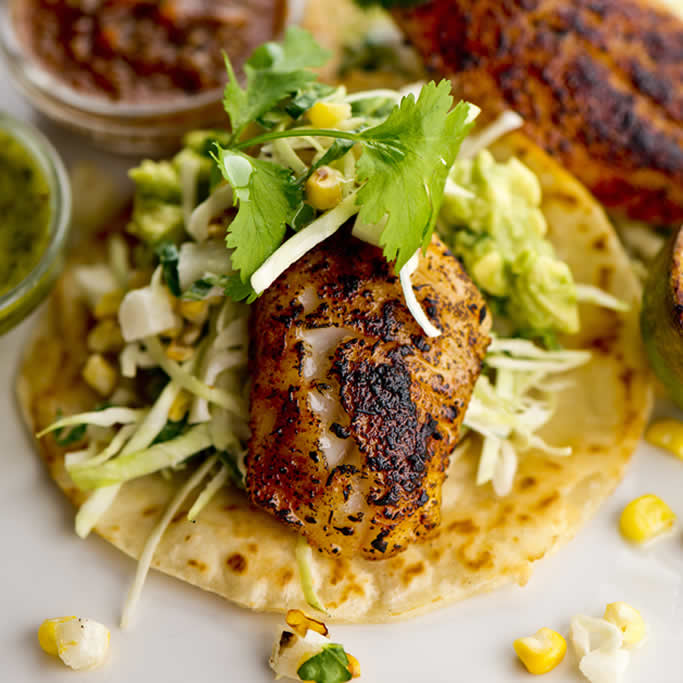 Instructions:
Preheat your grill to medium-high heat.
In a small bowl, combine the olive oil, minced garlic, chili powder, cumin, paprika, salt, and lime juice to create a marinade.
Place the fish fillets in a shallow dish and pour the marinade over them. Make sure the fish is evenly coated. Let it marinate for at least 15 minutes to allow the flavors to penetrate.
While the fish is marinating, prepare the toppings by chopping the cabbage or lettuce, tomatoes, red onion, and cilantro. Set them aside.
Grill the fish fillets for about 3-4 minutes per side, or until they are cooked through and flake easily with a fork.
Remove the fish from the grill and let it rest for a few minutes. Then, use a fork to flake the fish into smaller pieces.
Warm the corn tortillas on the grill for a minute or two, or until they are soft and pliable.
Assemble the tacos by placing a generous portion of the grilled fish on each tortilla. Top with shredded cabbage or lettuce, diced tomatoes, chopped red onion, and fresh cilantro.
Finish the tacos with a dollop of Greek yogurt or sour cream and a squeeze of lime juice.
Serve the grilled fish tacos immediately and enjoy the healthy and delicious flavors.
These grilled fish tacos offer a tantalizing combination of fresh ingredients, vibrant flavors, and healthful benefits. The tender grilled fish, paired with the crunchy cabbage, tangy tomatoes, and zesty lime, creates a satisfying and nutritious meal. Whether you're looking for a quick weeknight dinner or planning a gathering with friends, these grilled fish tacos are sure to be a hit. Embrace the healthy goodness and indulge in the mouthwatering flavors of these delicious tacos.