When it comes to catering events or transporting food for large gatherings, having reliable equipment is essential. One item stands out that ensures food stays fresh, hot, and safe during transit and that is the Carlisle 'Cateraide' Insulated Catering Food Warmer. In this blog, we'll delve into the features and benefits of this catering equipment, highlighting why it's the ultimate companion for your catering needs.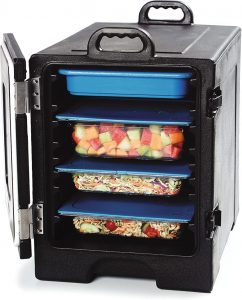 We found the Carlisle 'Cateraide' on Amazon
At the time of this writing the price of this item was $302. And had an Amazon rating of 4.6 stars.
Unparalleled Insulation: The Carlisle 'Cateraide' boasts superior insulation that keeps hot foods hot and cold foods cold for extended periods. The thick foam insulation traps heat, maintaining the desired serving temperature for hot dishes or preserving the freshness of chilled items, ensuring your food arrives at its destination in perfect condition.



Generous Capacity: With an impressive capacity of up to 5 full-size food pans, this end-loading food pan carrier offers ample space to transport a variety of dishes. From appetizers to main courses and desserts, you can conveniently pack and transport a wide range of menu items, making it suitable for large-scale events or multi-course meals.



Durable Construction: Crafted from rugged polyethylene, the Carlisle Cateraide is built to withstand the rigors of the catering industry. It is resistant to cracks, dents, and corrosion, ensuring long-lasting durability even in demanding environments. The sturdy latches securely seal the carrier, preventing any leaks or spills during transportation.



Easy Loading and Unloading: The end-loading design of this food pan carrier simplifies the loading and unloading process, saving you time and effort. The wide doors open fully, allowing for easy access to the food pans and making it convenient to organize and retrieve dishes during service.


Ergonomic and User-Friendly: The Cateraide is designed with convenience in mind. It features molded-in handles on all sides, offering a comfortable grip and making it easy to lift and carry, even when fully loaded. The stackable design allows for space-efficient storage, minimizing clutter in your catering facility


Versatility and Safety: This food pan carrier is not only suitable for transporting food but can also be used for hot or cold holding during buffet-style events or outdoor gatherings. It is NSF-listed, ensuring it meets the highest standards of sanitation and food safety.


Easy to Clean and Maintain: Maintaining hygiene is crucial in the food industry, and the Carlisle PC300N03 makes cleaning a breeze. Its smooth interior surface is easy to wipe down, and the gasketed doors can be removed for thorough cleaning. Additionally, it is dishwasher safe, streamlining your post-event cleanup process.


The Carlisle 'Cateraide' Insulated Catering Food Warmer is an indispensable tool for catering professionals. With its exceptional insulation, generous capacity, durability, and user-friendly features, it provides the ultimate solution for transporting and serving food at the desired temperature. Investing in this high-quality catering equipment ensures that your culinary creations will arrive in perfect condition, impressing clients and delighting guests. Make the Carlisle Cateraide your go-to choice and elevate your catering experience to new heights.